Defend your thesis, conquer your fieldwork – but first coffee!
This glass mug is for brooding intellectuals, thinkers, chemists, and science nerds who know that there's more to coffee than just caffeine. This glass celebrates the complex array of molecules that give coffee its unique qualities and flavors. Molecules such as guaiacol, which is responsible for that quintessential roasted coffee aroma – or diacetyl, which contributes a buttery flavor.
Volume: 13 ounces
Width: 3.25"
Height: 4.5"
Material: Hand Blown Glass
Care: Microwave safe, Hand wash
The glasses in this line proudly display molecules commonly found in each beverage that make it unique. You're sure to find caffeine on your coffee and tea glasses and ethanol (the good stuff!) on your beer and wine vessels, but these glasses let you go deeper. While you sip, embark on a journey into the chemistry of your favorite drink. Explore the tannins in your tea or admire the aromatic flavor compounds that impart a full-bodied wine experience.
USA
Flat Rate $5.95
Orders $75+ ship for free
Expedited service available
International
Shipping is available to most countries. See details at checkout.
Customer Reviews
Write a Review
Ask a Question
10/16/2020
Louise O.
United States
Sensational
MysonroastshisownbeansforhisshopandothersinAKandthisisperfect
CP
09/29/2020
Cheryl P.
United States
A hit!
My niece enthused over her gift, a graduation present for her science degree. I'm a science teacher and it's on my wish list.
09/10/2020
Katherine R.
United States
Beautiful mug, treat with care
This mug is truly eye-catching. My partner is a coffee fanatic and this was the perfect gift - aesthetically pleasing plus nerdy coffee chemistry. Unfortunately, the mug broke after a short time and limited use (glass was room temperature and hot coffee broke a hole in the bottom upon pouring). Karl at customer service was extremely timely and helpful and replaced the mug and provided use/care tips to ensure the glass is treated properly. I do still have concerns over the thickness of the glass - it feels fragile compared to our other glassware. But it is gorgeous and we will enjoy it and treat it with the care it needs. *Note: my original review appears to have been deleted. New review to capture excellent customer service response.
09/09/2020
Llocaris L.
United States
07/25/2020
Renee G.
United States
Best Coffee Companion
I was amazed that the mug looked exactly like the picture. I love drinking from and looking at such exquisite detail of the molecules for coffee. Best peuchase for this science geek.
07/21/2020
Sabina M.
United States
Best mug ever!
The company was super good about keeping me updated about where the package was down to the last minute, I think the price is very reasonable and the glass is very sturdy and I've put very hot coffee in there and it doesn't crack or break! The white molecule design doesn't fade and it's actually part of the glass so it won't rub off on the outside.
06/15/2020
Kense O.
United States
So great!
My friend's favorite mug! So great for coffee.
06/09/2020
Russell F.
United States
Love them!
First, the basics: order processing and shipping were fast and efficient, and the products arrived safely (always a worry when ordering something glass). The mugs themselves were a little lighter weight than I initially expected, but if anything, that's been a benefit for me as I brew with a press and prefer to drink it a bit cooler than brewing temperature. I love being able to watch as I blend the creamer, and I'm endlessly amused by all things scientific/nerdy.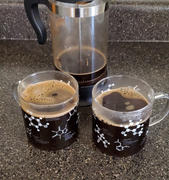 BB
05/23/2020
Bill B.
United States
Love the Coffee Chemistry Mug
This thing is great! I have a degree in Chemistry and I roast coffee, so what could be better?!? Well, a little heavier mug would be better. I love the mug, it's just a little on the light side.
05/23/2020
Torin M.
Netherlands
The only mug I use.
Fantastic mug. Decently thick, and just feels good to hold. My favorite part of the mug is watching my coffee drip into it. It's a feast for the eyes you don't get with a normal mug. If you buy one, I'd highly recommend making an "Affogato" in it.