Cuneiform Hand Carved 15 oz Ceramic Mug
Item is in stock
Only

0

left in stock
Item is out of stock
Item is unavailable
Muse on the wonders of linguistics and the ancient Mesopotamian world. The intricate cuneiform script, with its elegant lines and wedge-shaped characters, represents the earliest form of writing and evokes the richness of ancient civilization. This mug's bold black and white design adds a modern twist to this timeless art, making it the perfect addition to your collection.
The text on this mug comes from the Hymn to Dungi, which sings the praises of a wise and just leader.
Gift one to your favorite anthropologist, linguistics professor, or significant other and make their day. Each piece is hand sand-carved  by skilled artisans, so you can let your love of ancient cultures and art shine through with every sip.
---
Dishwasher Safe
Microwave Safe
Carbon Neutral Shipping & Operations
Compostable Packaging
Handmade
---
| | |
| --- | --- |
| Volume | 15 oz |
| Care | Dishwasher & Microwave Safe |
| Origin | Made internationally |
| Material | Ceramic |
••• Holiday 2023 Shipping Dates & Deadlines ••• 
USA
Flat Rate $7.95
Orders $40+ ship for free
Expedited service available
International
Shipping is available to most countries. See details at checkout.
If you're shipping to Europe, Asia, the Middle East, or Oceania, please check out our European website for lower shipping rates and quicker delivery times.
---
Returns & Exchanges
within 30 days of purchase
Sustainably Minded
Inclusive Workplace & Eco Friendly Products
Frequently Asked Questions
Customer Reviews
Write a Review
Ask a Question
11/17/2023
Kenneth J. Bryson

United States
Great gift
I got rave reviews from the recipient of this gift - who's an Assyriologist!
10/06/2023
Jacinda P.

United States
Love this mug!
It's my new favorite and I use it all the time!
09/15/2023
Lee S.

United States
Love it!
Cuneiform has been important to me for a long time so I love having it on my daily coffee. I especially love that it is etched in so I can actually feel the symbols.
08/28/2023
Richard L.

United States
Anniversary perfect
My gift to better half is used every morning we are at condo. Great gift for a linguistic, or madam grammarian.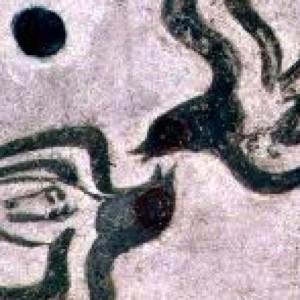 JS
08/23/2023
Jessamyn S.

United States
For epic coffee drinkers
My new favorite morning Humanities cup
08/14/2023
Helen C.

United States
07/11/2023
Michael B.

United States
Awesome cup
I am very pleased with this addition to my morning 'cup of coffee' routine. It's comfortable, well-made, and I love the cuneiform writing. If I had only had this when I was teaching World History in high school...
07/11/2023
Susan C.

United States
Yay, cuneiform!
I'm loving this mug. The quality is excellent. I like the fact that the cuneiform is incised into the surface. I like the size. I like the feel of the glaze--it's smooth. And I like that it reminds me of Dr. Irving Finkle's amazing You Tube lectures every morning.
07/09/2023
Craig L.

United States
Beautiful!
Great quality and size of mug.
07/03/2023
Jeff P.

United States
Great cup!
These are really high quality!